Wellington Ukulele Festival
Sun 14 Feb 2021, 10:00 am - 7:30pm
Expressions Whirinaki Arts & Entertainment Centre
836 Fergusson Drive
Upper Hutt, Wellington
Festivals, Performing Arts, Wellington Region,
Early Bird General Admission $25, Standard Genera Admission $35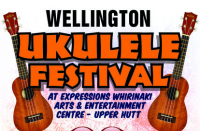 Concert and workshop hosts Justin Reed and Shane McAlister, lead a day to play, learn and have fun.
Enjoy a finale concert from the Shenanigans.
Early Bird General Admission tickets available from 4th December 2020 until 30 January 2021. Standard General Admission tickets available thereafter.
Proudly brought to you by:
Mainly Acoustic Music Club, Upper Hutt City Council, The Music Warehouse, The Hutt Valley Ukulele Orchestra and The Ukulele Institute (T.U.I).
Event Dates
Expressions Whirinaki Arts & Entertainment Centre
Upper Hutt, Wellington
836 Fergusson Drive
View on map
Sun 14 Feb 2021, 10:00 am
Sun 14 Feb 2021, 07:30 pm
Early Bird General Admission $25, Standard Genera Admission $35
Expressions Whirinaki Arts & Entertainment Centre
Upper Hutt, Wellington
836 Fergusson Drive
View on map
Sun 14 Feb 2021, 10:00 am
Sun 14 Feb 2021, 07:30 pm
Early Bird General Admission $25, Standard Genera Admission $35