Te Ara- The Stories of Our Streets
https://www.instagram.com/whirinaki_whare_taonga/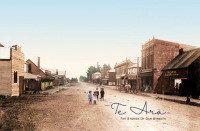 Explore the significant stories behind the streets of Upper Hutt, our people and places, our meetings and memories, told and untold. From the first meetings of Maori and early settlers to today; these are the stories that our city is built on.
This opening exhibition is in the newly built Gillies Gallery, and is the city's first major historical exhibition. Through an exploration of the streets of Upper Hutt, past and present, you will hear insights into the historic sites and buildings of Upper Hutt, yarns from local characters and their dramas, legends of our local iwi, and the fascinating secrets hidden under the pavements of our city.
Stand on the street where you live. Discover what has happened over time, on that very spot. Embark on a journey through time, and experience an Upper Hutt you never have before.