Sunday Strum 2021
View all Dates
Sun 02 May 2021, 02:00 pm - 3:00pm
Expressions Whirinaki Arts & Entertainment Centre
836 Fergusson Drive
Upper Hutt
Sun 06 Jun 2021, 02:00 pm - 3:00pm
Expressions Whirinaki Arts & Entertainment Centre
836 Fergusson Drive
Upper Hutt
Sun 04 Jul 2021, 02:00 pm - 3:00pm
Expressions Whirinaki Arts & Entertainment Centre
836 Fergusson Drive
Upper Hutt
Sun 01 Aug 2021, 02:00 pm - 3:00pm
Expressions Whirinaki Arts & Entertainment Centre
836 Fergusson Drive
Upper Hutt
Sun 05 Sep 2021, 02:00 pm - 3:00pm
Expressions Whirinaki Arts & Entertainment Centre
836 Fergusson Drive
Upper Hutt
Sun 03 Oct 2021, 02:00 pm - 3:00pm
Expressions Whirinaki Arts & Entertainment Centre
836 Fergusson Drive
Upper Hutt
Sun 07 Nov 2021, 02:00 pm - 3:00pm
Expressions Whirinaki Arts & Entertainment Centre
836 Fergusson Drive
Upper Hutt
Gold Coin Event, Family, Music, Wellington Region,
Wheelchair access, Accessible toilets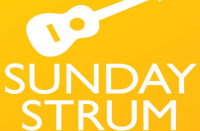 Join us on the first Sunday of the month for a ukulele jam session. You can listen or join in, use one of our Ukes or bring your own. Beginners to advanced players, ages 5 to 95, all welcome.
Event Dates
Sun 02 May 2021, 02:00 pm
Sun 02 May 2021, 03:00 pm
Sun 06 Jun 2021, 02:00 pm
Sun 06 Jun 2021, 03:00 pm
Sun 04 Jul 2021, 02:00 pm
Sun 04 Jul 2021, 03:00 pm
Sun 01 Aug 2021, 02:00 pm
Sun 01 Aug 2021, 03:00 pm
Sun 05 Sep 2021, 02:00 pm
Sun 05 Sep 2021, 03:00 pm
Sun 03 Oct 2021, 02:00 pm
Sun 03 Oct 2021, 03:00 pm
Sun 07 Nov 2021, 02:00 pm
Sun 07 Nov 2021, 03:00 pm