NZ Warbirds at Ardmore - Tarmac Day
3 days ago, Sun 19 Sep 2021, 11:00 am - 2:00pm
NZ Warbirds at Ardmore
Hangar 2 824 Harvard Lane Ardmore Airport Papakura 2582
Auckland
Auto Boat Air, Commemorations, Hobbies Special Interest
Wheelchair Access, Accessible Toilets, Mobility Parking
Adults $15, School Age $5, Pre-school Free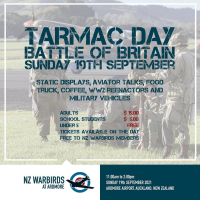 NZ Warbirds at Ardmore are excited to invite you to come out to Ardmore and join them on September 19th to commemorate the Battle of Britain and take part in the first of our Tarmac Day series, a more intimate ground based event perfect for to get up close and personal to our fleet of amazing heritage aircraft and talk to our passionate display pilots, members and volunteers.
We will be hosting WW2 reenactors and military vehicles to complete our line up and give visitors an insight into the style of uniforms worn in the day and the ground transport they used.
Watch as our Roaring Forties Harvard display team get airborne to perform a commemorative flypast at approximately 11:00am over the Auckland War Memorial Museum, Cenotaph and surrounding areas in conjunction with the RNZAF Association and then return to Ardmore for an overhead buzz and break before landing and being available to speak to all our visitors.
Tickets will be available on the gate