NZ Open One Dance Championships
View all Dates
Sat 05 Jun 2021, 09:00 am - 11:00pm
Te Rauparaha Arena
17 Parumoana Street, Porirua
Porirua
Sun 06 Jun 2021, 09:00 am - 11:00pm
Te Rauparaha Arena
17 Parumoana Street, Porirua
Porirua
Dance, Performing Arts, Family, Arts Culture
Wheelchair Access, Accessible Toilets, Mobility Parking
From $10 children per day session/$25 adult per day session
New Zealand Federal Association of Teachers of Dance
wellingtonsecretaryfatd@outlook.com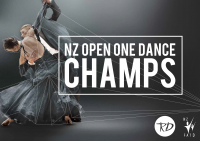 National championship showcasing the best in Ballroom dancing. Dancers from around New Zealand come to compete for national titles showcasing their best routines to grace the floor.
The championships are a real treat for spectators - we have dancers from school children age right through to seniors competing at all levels.
There are lots of beautiful dresses and wonderful music and of course the glitz and glamour that comes with dancing ballroom!
Event Dates
Te Rauparaha Arena
Porirua
17 Parumoana Street, Porirua
View on map
Sat 05 Jun 2021, 09:00 am
Sat 05 Jun 2021, 11:00 pm
From $10 children per day session/$25 adult per day session
Te Rauparaha Arena
Porirua
17 Parumoana Street, Porirua
View on map
Sun 06 Jun 2021, 09:00 am
Sun 06 Jun 2021, 11:00 pm
From $10 children per day session/$25 adult per day session