Moon and Mindfulness Yoga
View all Dates
Thu 06 May 2021, 12:00 pm - 1:00pm
Expressions Whirinaki Arts & Entertainment Centre
836 Fergusson Drive
Upper Hutt
Thu 13 May 2021, 12:00 pm - 1:00pm
Expressions Whirinaki Arts & Entertainment Centre
836 Fergusson Drive
Upper Hutt
Thu 20 May 2021, 12:00 pm - 1:00pm
Expressions Whirinaki Arts & Entertainment Centre
836 Fergusson Drive
Upper Hutt
Thu 27 May 2021, 12:00 pm - 1:00pm
Expressions Whirinaki Arts & Entertainment Centre
836 Fergusson Drive
Upper Hutt
Free Entry Event, Exhibitions, Health Wellness, Wellington Region,
Wheelchair access, Accessible toilets
Expressions Whirinaki Arts & Entertainment Centre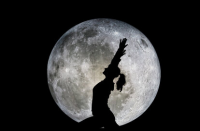 Join us under UK artist Luke Jerram's, The Moon for Yoga classes with a difference. The large moon artwork will be the centrepiece of an exciting programme of Yoga where a qualified instructor will guide you through a series of movements and poses that connect to the Moon hanging above.
Free event, no bookings required.
Event Dates
Thu 06 May 2021, 12:00 pm
Thu 06 May 2021, 01:00 pm
Thu 13 May 2021, 12:00 pm
Thu 13 May 2021, 01:00 pm
Thu 20 May 2021, 12:00 pm
Thu 20 May 2021, 01:00 pm
Thu 27 May 2021, 12:00 pm
Thu 27 May 2021, 01:00 pm