Matariki Moon Watching
View all Dates
Thu 17 Jun 2021, 03:30 pm - 5:30pm
Expressions Whirinaki Arts & Entertainment Centre
836 Fergusson Drive
Upper Hutt
Fri 18 Jun 2021, 03:30 pm - 5:30pm
Expressions Whirinaki Arts & Entertainment Centre
836 Fergusson Drive
Upper Hutt
Free Entry Event, Family, Education, Exhibitions, Wellington Region,
Expressions Whirinaki Arts & Entertainment Centre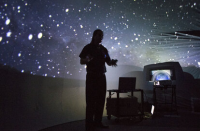 BOOKINGS ESSENTIAL
Explore the Te Papa Giant Star Dome during Matariki. Experience the night sky alongside Luke Jerram's moon artwork and learn how to spot constellations in Aotearoa's night sky.
Suitable for all ages.
Free event. To book phone Reception on (04) 527 2168.
Event Dates
Expressions Whirinaki Arts & Entertainment Centre
Upper Hutt
836 Fergusson Drive
View on map
Thu 17 Jun 2021, 03:30 pm
Thu 17 Jun 2021, 05:30 pm
Expressions Whirinaki Arts & Entertainment Centre
Upper Hutt
836 Fergusson Drive
View on map
Fri 18 Jun 2021, 03:30 pm
Fri 18 Jun 2021, 05:30 pm