James Cook Grand Chancellor
147 The Terrace, Wellington
Phone 0800 275 337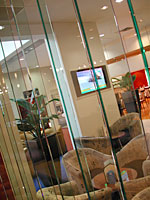 Situated between The Terrace and Lambton Quay, The James Cook Hotel Grand Chancellor is not only recognised as a true icon of Wellington, but it also doubles as a public thoroughfare! The hotel is only a short walk from the city's government and corporate offices with direct access to the major shopping areas. Therefore, should you find yourself nipping through the foyer en route to the shops in your lunch hour, you could be forgiven for debating whether to stop for a relaxing drink or a bite at Sojourn which continually delights customers with its innovative cuisine, friendly service and contemporary ambience. So take our advice - debate no longer, you'll be glad you did. For a slightly more formal dining, it is essential you visit Whitby's Restaurant & Bar. It is the only restaurant in Wellington that gives you the option of enjoying a selection of local and international cuisine from either a buffet or a la carte menu.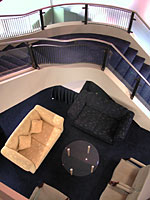 Accommodation wise, should you be planning a weekend break, a fortnight's holiday, a corporate function or maybe a one-night stop-over you can't help but be impressed by the facilities on offer here. All rooms have high-speed internet access, Sky TV, in house movie system, iron and board, full mini-bar and tea/coffee making facilities. In addition, the 24-hour room service, concierge and reception, covered car park and the proximity to all local attractions are just some of the features that will make your time in Wellington all the more memorable.
Fitness freaks will no doubt get their fix here too as there is a Bodyhaven spa-style boutique and a complimentary in-house gymnasium. But for those workaholics staying at the hotel, a club lounge is available when booking certain rooms. Here you can work in peace and tranquility - the only distraction being the fabulous view. We guarantee you will be tempted to use the telescope in the lounge to view the incoming Interislander from 26 floors up!

The James Cook Grand Chancellor Hotel has 260 well-appointed rooms and suites and is recognised as the capital's leading mid-market hotel. Without doubt, it offers both business and leisure travellers alike a friendly and professional service.
Sojourn Cafe & Bar
Sojourn Café & Bar is located in the lobby of the hotel and is like an indoor boulevard café where you can see and be seen.
The breakfast menu has something in mind for everyone, catering to those requiring breakfast on the run, or a light healthy meal or for those who have all the free time to sit back and enjoy a selection of breakfast items on the menu.
Dinner is a more up-market affair where an exceptional quality of ingredients and produce are used by the hotel's brigade of international chefs which create a tantalising cuisine mixing flavours of the Pacific Rim and Europe.
The drinks list is vast with local and imported beers, a wide selection of New Zealand and Australian wines and a comprehensive cocktail list. In fact, Friday night is Cocktail Happy Hour, where all cocktails are half price between 6pm and 8pm. Free bar snacks are served during Happy Hour too.
Whitby's Restaurant
A family friendly restaurant with great views of Wellington and the Harbour, Whitby's is the only restaurant in Wellington that gives you the option of enjoying a selection of local and international cuisine from either a buffet or a la carte menu.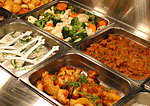 The buffet offers without a doubt the best buffet breakfast in town. All the favourite breakfast items are complemented by the Chef cooking eggs to your liking and omelettes with your choice of fillings. A selection of cereals, chunky fresh fruits and juices are just an example for a healthy start to the day.
The lunch buffet features a mixture of light lunch dishes with the Chef at hand to cook your fresh fish and tender cuts of meat just the way you like it.
The selection on the buffet at dinner time is even greater; a carvery is complemented by daily specials of chicken, beef or lamb with herbaceous flavours of Italian, Asian, and classic European dishes prepared in front of you.
The resident pianist has been playing at The James Cook Hotel for the past 28 years. He can be heard in Whitby's most nights.
Why not try out the 'Progressive Dinner'. Start with a drink and an entree in Sojourn Cafe and Bar on the Lobby level. Move up to the 17th floor for dinner in Whitby's Restaurant. After relaxing in Whitby's and enjoying the piano playing, move up to the Club Lounge on the 26th floor to take in the breath-taking harbour views and enjoy some dessert or cheese and biscuits along with coffees, bubbles or dessert wines.