Heritage Walking Tours
View all Dates
Sun 06 Jun 2021, 03:00 pm - 5:00pm
Expressions Whirinaki Arts & Entertainment Centre
836 Fergusson Drive
Upper Hutt
Sun 13 Jun 2021, 03:00 pm - 5:00pm
Expressions Whirinaki Arts & Entertainment Centre
836 Fergusson Drive
Upper Hutt
Sun 20 Jun 2021, 03:00 pm - 5:00pm
Expressions Whirinaki Arts & Entertainment Centre
836 Fergusson Drive
Upper Hutt
Sun 27 Jun 2021, 03:00 pm - 5:00pm
Expressions Whirinaki Arts & Entertainment Centre
836 Fergusson Drive
Upper Hutt
Free Entry Event, Education, Exhibitions, History, Wellington Region,
Expressions Whirinaki Arts & Entertainment Centre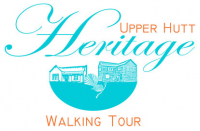 A guided walking tour featuring the historic sites and buildings of Upper Hutt. This 1.5km walking tour will take you through the historic areas and stories of our city, its personalities and its drama.
Free guided event. No bookings required. Meet at Expressions Whirinaki at 3pm.
Event Dates
Sun 06 Jun 2021, 03:00 pm
Sun 06 Jun 2021, 05:00 pm
Sun 13 Jun 2021, 03:00 pm
Sun 13 Jun 2021, 05:00 pm
Sun 20 Jun 2021, 03:00 pm
Sun 20 Jun 2021, 05:00 pm
Sun 27 Jun 2021, 03:00 pm
Sun 27 Jun 2021, 05:00 pm