Hataitai Village Mother's Day Market 8 May 2021
28 minutes ago, Sat 08 May 2021, 10:00 am - 2:00pm
Hataitai Centre
157 Hataitai Road Hataitai
Wellington
Markets, Community Event, Free Entry Event, Fundraising,
Hataitai Community Events Group
hataitaivillagemarket@gmail.com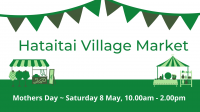 The Hataitai Community Market has changed its name to the Hataitai Village Market!!!
Under this fresh new name we'd like to update you about our next market…
It's not on our customary 1st Saturday of the month in May this time, as we thought we'd move it back a week to coincide with Mother's Day on the 8th.
Stallholders – if you'd like to book a stall then email hataitaivillagemarket@gmail.com
Members of the public – watch this space as we begin to profile our stallholders.
The Coolsville Cartel Bowling Club café will be in our kitchen again offering lots of yummy snacks and refreshments.
https://www.facebook.com/HataitaiMarket