Garden Leave – Matilda Fraser
View all Dates
Tue 01 Dec 2020, 10:00 am - 8:00pm
Toi Pōneke Gallery
Toi Pōneke Arts Centre, 61 Abel Smith Street, Te Aro
Wellington
Wed 02 Dec 2020, 10:00 am - 8:00pm
Toi Pōneke Gallery
Toi Pōneke Arts Centre, 61 Abel Smith Street, Te Aro
Wellington
Thu 03 Dec 2020, 10:00 am - 8:00pm
Toi Pōneke Gallery
Toi Pōneke Arts Centre, 61 Abel Smith Street, Te Aro
Wellington
Fri 04 Dec 2020, 10:00 am - 8:00pm
Toi Pōneke Gallery
Toi Pōneke Arts Centre, 61 Abel Smith Street, Te Aro
Wellington
Sat 05 Dec 2020, 10:00 am - 4:00pm
Toi Pōneke Gallery
Toi Pōneke Arts Centre, 61 Abel Smith Street, Te Aro
Wellington
Exhibitions, Visual Arts, Wellington Region, Free Entry Event, Arts Culture,
Wheelchair access, Accessible toilets, Mobility parking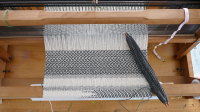 Garden Leave, a new exhibition by Toi Pōneke Art Centre's visual artist-in-residence Matilda Fraser, examines the future of work and labour in an economic landscape impacted by pandemics, recessions, global trade, automation and excess.
Fraser questions "intelligent" ways of working which leave us ever more available to the pull of work around the clock, and considers how our time has been reimagined as less our own, but as 24 potentially billable hours. Garden Leave centres on research into the textile weaving industry as a key site of "disruption" and subsequent "maladjustment" period during the Industrial Revolution, with reference to the economic theory of John Maynard Keynes. Fraser explores the manual practice of weaving as contrasted with modern practices of production, and investigates aspirational office-culture aphorisms designed to encourage production.          
                                                                                   
Matilda Fraser (BFA Hons, 2012, Massey University; MFA 2016, University of Auckland) is an artist and writer based in Te Whanganui-a-Tara, Aotearoa, with a multidisciplinary research-driven practice that deals with circulation, exchange, gifts, colloquial histories and the broken promises of language. More generally, her work draws on local histories to wonder about and investigate how they continue to affect us in the present.                
Event Dates
Tue 01 Dec 2020, 10:00 am
Tue 01 Dec 2020, 08:00 pm
Wed 02 Dec 2020, 10:00 am
Wed 02 Dec 2020, 08:00 pm
Thu 03 Dec 2020, 10:00 am
Thu 03 Dec 2020, 08:00 pm
Fri 04 Dec 2020, 10:00 am
Fri 04 Dec 2020, 08:00 pm
Sat 05 Dec 2020, 10:00 am
Sat 05 Dec 2020, 04:00 pm