Why is matter so intelligent, though? - Amy Jean Barnett
Sat 11 Jan 2020, 10:00 am
Sat 01 Feb 2020, 04:00 pm
Toi Pōneke Gallery
61 Abel Smith Street Te Aro
Wellington
Arts Culture, Wellington Region,
Wheelchair access, Accessible toilets, Mobility parking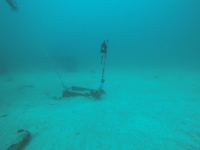 Why is matter so intelligent, though? explores the acoustic relationships between reef fish, sea urchins, snapping shrimp and other marine life forms in the Hauraki Gulf, considering the symbiotic interdependencies
of these organisms through sound.
Made in collaboration with the Leigh Marine Laboratory, just north of Auckland, this multichannel sound work refers to the temporal trends and biological rhythms native to this marine environment, asking, what can we learn from these interdependent, self-organising life history strategies?
Amy Jean Barnett is the 2019-20 Toi Pōneke New Zealand School of Music Sound Artist in Residence.
In Conversation: Friday 31 January 5pm
As part of the closing celebration for Why is matter so intelligent, though? artist Amy Jean Barnett is joined by Dr Craig Radford and Louise Wilson from the Leigh Marine Laboratory to discuss their recent collaboration and delve further into the biological role of underwater sound, in particular how human induced noise in the marine environment might be affecting the various creatures that inhabit this space.