Walk to D'Feet MND Wellington
4 days ago, Sun 11 Nov 2018, 09:30 am
4 days ago, Sun 11 Nov 2018, 02:00 pm
ASB Sports Centre
72 Kemp St, Kilbirnie
Wellington
Charity Causes, Fundraising, Family, Community
Wheelchair access, Accessible toilets, Mobility parking
$10 Early Bird Registration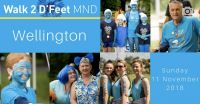 Walks 2 D'Feet MND will take place all over New Zealand on Sunday, 11 November 2018. These easy, fun walks are a powerful way to show your support for people with motor neurone disease (MND).
The walk starts at 11am, leaving from ASB Sports Centre, 72 Kemp Street, Kilbirnie. Registration and merchandise pick up from 9:30am. The walk is approximately 3.5km.
Dogs are welcome on the outdoor walk, but not in the venue – they may even like their own t-shirt! Just remember they need to be on a lead and under control.
All Walks 2 D'Feet MND are wheel-friendly for wheelchairs, prams and strollers. Kids are welcome. Please be prepared for all weather. Wet or fine, we go ahead!
We appreciate your early online registration, which helps our volunteers plan their events (and saves you $5 per person). Your registration fee covers the cost of running the walks. Some walkers also choose to fundraise, which gives the walks an amazingly positive ongoing impact. The funds you raise contribute to MND research, and help MND New Zealand provide free support to people with MND and their whanau.
Thank you for walking to defeat MND. Your participation and fundraising efforts make a real difference to people with MND and their families.