WRITERS ON MONDAYS- The Next page 2
Mon 09 Sep 2019, 12:15 pm
Mon 09 Sep 2019, 01:15 pm
Te Marae, Level 4, Te Papa
Cable Street
Wellington
Free Entry Event, Writing Publishing, Wellington Region, Arts Culture
Wheelchair access, Accessible toilets, Mobility parking
International Institute of Modern Letters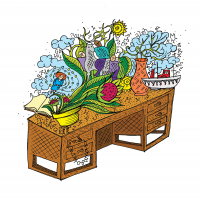 Part 2 of the popular Next Page sessions features readings from (in order) Danyl McLauchlan, Preya Gothanayagi, Melanie Ansell, Jane Cherry, Catarina de Peters Leitão, Tanya Ashcroft, Manon Revuelta, Dave Glynn, Louisa Buchanan, and Janey Thornton. They are introduced by Chris Price.
Writers on Mondays is presented by the International Institute of Modern Letters and The Museum of New Zealand Te Papa Tongarewa.
These events are open to the public and free of charge.