The Well-Rehearsed and Not At All Slapdash Story of Pete Bennett - March 21st-23rd- 49 Courtaney Place
36 minutes ago, Fri 22 Mar 2019, 06:30 pm
Fri 22 Mar 2019, 07:30 pm
Courtenay Creative
49 Courtenay Place
Wellington
Sat 23 Mar 2019, 06:30 pm
Sat 23 Mar 2019, 07:30 pm
Courtenay Creative
49 Courtenay Place
Wellington
Performing Arts, Arts Culture, Theatre, Wellington Region
Wheelchair access, Accessible toilets
Scruffy Bunny Improv Theatre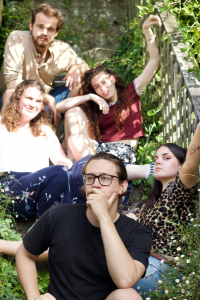 Pete Bennett. We all know a Pete Bennett. Brown Satchel, Black Skinny jeans, White-Collared Shirt, Black Waistcoat. Maybe he's wearing his father's tweed coat? And maybe his facial expression is somewhat pretentious - perhaps because he missed out on getting into the Institute of Modern Letters at Victoria University of Wellington? Will that stop him from writing stories with very generic plot points?
Probably not.
Do we really know Pete Bennett?
In 'THE WELL-REHEARSED AND NOT AT ALL SLAPDASH STORY OF PETE BENNETT', bear with us as we follow Pete as he stains many pages with unfinished and never-to-be-published stories. Follow his underdeveloped characters as they become sentient and wreck havoc upon Pete's ordinary existence. There will be heroes (or just the one), there will be villains (potentially also just one) and there's gonna be a squire and a dragon (maybe). Pete is still deciding. Join us, as Pete's imagination starts to decide things for him.
Event Dates
Courtenay Creative
Wellington
49 Courtenay Place
View on map
36 minutes ago, Fri 22 Mar 2019, 06:30 pm
Fri 22 Mar 2019, 07:30 pm
Courtenay Creative
Wellington
49 Courtenay Place
View on map
Sat 23 Mar 2019, 06:30 pm
Sat 23 Mar 2019, 07:30 pm