THE MERRY WIVES OF WINDSOR
Sat 13 Jul 2019, 08:00 pm
Sat 13 Jul 2019, 10:00 pm
Expressions Whirinaki Arts & Entertainment Centre
836 Fergusson Drive
Upper Hutt
Theatre, Wellington Region,
Wheelchair access, Accessible toilets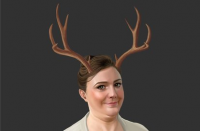 Katie Boyle plays 16 faces in this Shakespearean farce. With many clueless male suitors after three quick-witted ladies, this show will leave you (and Katie) gasping for air. Katie is one of NZ's most prolific Shakespearean actors, with 10 Elizabethan productions performed over the last 5 years, including touring with Lord Lackbeards, an all-female Hamlet at the Pop-Up Globe (Guildenstern and Laertes), Romeo and Juliet (Juliet), and Dr Faustus (Faustus).
Presented by Sparrow and Boyle Entertainment.