Suspended Terrain - Rebecca Hasselman
Sat 23 Mar 2019, 10:00 am
Sat 23 Mar 2019, 04:00 pm
Toi Pōneke Gallery
61 Abel Smith Street Te Aro
Wellington
Sun 24 Mar 2019, 10:00 am
Sun 24 Mar 2019, 04:00 pm
Toi Pōneke Gallery
61 Abel Smith Street Te Aro
Wellington
Mon 25 Mar 2019, 10:00 am
Mon 25 Mar 2019, 04:00 pm
Toi Pōneke Gallery
61 Abel Smith Street Te Aro
Wellington
Tue 26 Mar 2019, 10:00 am
Tue 26 Mar 2019, 04:00 pm
Toi Pōneke Gallery
61 Abel Smith Street Te Aro
Wellington
Wed 27 Mar 2019, 10:00 am
Wed 27 Mar 2019, 04:00 pm
Toi Pōneke Gallery
61 Abel Smith Street Te Aro
Wellington
Thu 28 Mar 2019, 10:00 am
Thu 28 Mar 2019, 04:00 pm
Toi Pōneke Gallery
61 Abel Smith Street Te Aro
Wellington
Fri 29 Mar 2019, 10:00 am
Fri 29 Mar 2019, 04:00 pm
Toi Pōneke Gallery
61 Abel Smith Street Te Aro
Wellington
Sat 30 Mar 2019, 10:00 am
Sat 30 Mar 2019, 04:00 pm
Toi Pōneke Gallery
61 Abel Smith Street Te Aro
Wellington
Free Entry Event, Arts Culture, Wellington Region, Visual Arts
Wheelchair access, Accessible toilets, Mobility parking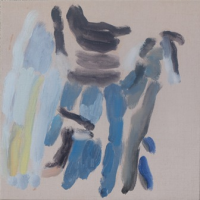 Rebecca Hasselman's solo exhibition, Suspended Terrain, explores ways that a thoughtful, personal connection to the land can be articulated through paint. These new works draw from Hasselman's time in the high country of the South Island.
Perspective is removed, and colours and forms taken from the landscape are flattened and abstracted through the artist's subjective process. Through these formal considerations, the works present a poetic space for immersion and contemplation at a time when human
relationships with the land are becoming increasingly detached.
Event Dates
Sat 23 Mar 2019, 10:00 am
Sat 23 Mar 2019, 04:00 pm
Sun 24 Mar 2019, 10:00 am
Sun 24 Mar 2019, 04:00 pm
Mon 25 Mar 2019, 10:00 am
Mon 25 Mar 2019, 04:00 pm
Tue 26 Mar 2019, 10:00 am
Tue 26 Mar 2019, 04:00 pm
Wed 27 Mar 2019, 10:00 am
Wed 27 Mar 2019, 04:00 pm
Thu 28 Mar 2019, 10:00 am
Thu 28 Mar 2019, 04:00 pm
Fri 29 Mar 2019, 10:00 am
Fri 29 Mar 2019, 04:00 pm
Sat 30 Mar 2019, 10:00 am
Sat 30 Mar 2019, 04:00 pm