New Zealand Nationals
3 days ago, Sat 20 Jul 2019, 12:00 am
2 days ago, Sun 21 Jul 2019, 12:00 am
Avantidrome
15 Hanlin Road
Cambridge
Sport, Health Wellness, Waikato Region,
Wheelchair access, Accessible toilets
Spectators $10.00 per day, U10 free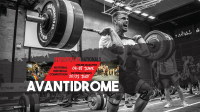 The New Zealand nationals provides a platform for functional fitness competitors of all levels to compete.
Dedicated athletes ranging from beginners to some of NZ;s best will descend on the world class facility in Cambridge to tackle work outs over 2 days.
These competitors will complete various functional fitness movements over the weekend. There will be unexpected workouts with unexpected weights, distances and reps but along with those unexpected achievements.
Come watch these dedicated athletes compete head-to-head and cheer them on!
Original generation time 0.6062 seconds.