New Zealand International Film Festival 2018 | Wellington
Fri 27 Jul 2018, 10:00 am
Sun 12 Aug 2018, 08:00 pm
Various
Various venues
Wellington
Arts Culture, Festivals, Film Media Entertainment,
Wheelchair access, Accessible toilets
New Zealand International Film Festival Trust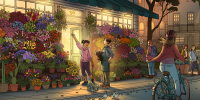 The New Zealand International Film Festival (NZIFF) is a celebration of film on the finest screens in New Zealand.
The event is the cultural highlight of winter in 13 towns and cities around the country, making a great occasion out of movie-going by presenting the latest and best films from around the world.
Run by a charitable trust, NZIFF maintains a rich tradition of diverse choice in a curated selection of expertly crafted films – features, documentaries and short films too - that deserve to be experienced with an audience.
The full NZIFF programme will be available from Friday 29 June for Wellington, tickets are on sale from 5 July. NZIFF starts in Wellington on 27 July in 2018. We screen at five venues in Wellington: Embassy Theatre, Reading Cinema, Penthouse in Brooklyn, Roxy Cinema in Miramar, Light House Petone, and Ngā Taonga Sound & Vision.