Laser Kiwi presents IDIOM
View all Dates
Sat 21 Nov 2020, 07:00 pm - 8:30pm
Te Auaha on Dixon Street
65 Dixon Street, Te Aro
Wellington
Sat 21 Nov 2020, 09:00 pm - 10:30pm
Te Auaha on Dixon Street
65 Dixon Street, Te Aro
Wellington
Circus, Wellington Region, Comedy, Performing Arts,
Wheelchair access, Accessible toilets, Mobility parking
General Admission: $36 Group (6 or more): $32 Concession (Student or Community Services): $30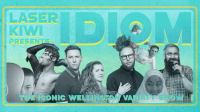 Welcome to the stage "IDIOM!" The freshest, funniest variety show featuring Aotearoa's finest! It is Once in a blue moon you get to see a line up this good!
Hosted by the one and only, unabashed, olive fuelled, award winning comedy circus power trio that is "Laser Kiwi." Expect top notch circus, comedy, drag, music and more. Expect the unexpected! And expect to have a whale of a time.
Jump the gun and grab your tickets for the inaugural November Edition featuring: Laser Kiwi, Jerome Chandrahasen, Jackson Cordery, Bjorn Aslund, Dee, Egg & and some others!
Reviews for previous Laser Kiwi shows:
"Fall-down funny, absolutely top shelf." ★★★★★ Advertiser, AUS
"Hilarious and impressive in equal measure." ★★★★★ Glam Adelaide, AUS
Event Dates
Te Auaha on Dixon Street
Wellington
65 Dixon Street, Te Aro
View on map
Sat 21 Nov 2020, 07:00 pm
Sat 21 Nov 2020, 08:30 pm
General Admission: $36 Group (6 or more): $32 Concession (Student or Community Services): $30
Te Auaha on Dixon Street
Wellington
65 Dixon Street, Te Aro
View on map
Sat 21 Nov 2020, 09:00 pm
Sat 21 Nov 2020, 10:30 pm
General Admission: $36 Group (6 or more): $32 Concession (Student or Community Services): $30