Kapiti – Fightfit 6-Week Bootcamp
Sat 02 Nov 2019, 09:00 am
Sun 08 Dec 2019, 10:00 am
Mazengarb Reserve Sports Complex
Mazengarb Road
Paraparaumu
Health Wellness, Conferences Workshops Classes, Sport,
$99 per person or $149 for two people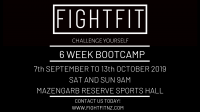 Come and join us! Come and get fit without getting hit! Incorporating Boxing, Kickboxing and Fitness Drills you will be challenged to the very end! Your journey is unique to you at Fightfit. No experience required. All welcome!
Get fit and feel great for summer!
Challenge yourself.