Kāpiti Arts Trail 2019
Sat 02 Nov 2019, 10:00 am
Sat 02 Nov 2019, 05:00 pm
Kāpiti Arts Trail
Kapiti Coast District Council, 175 Rimu Road, Paraparaumu
Kapiti Coast
Sun 03 Nov 2019, 10:00 am
Sun 03 Nov 2019, 05:00 pm
Kāpiti Arts Trail
Kapiti Coast District Council, 175 Rimu Road, Paraparaumu
Kapiti Coast
Sat 09 Nov 2019, 10:00 am
Sat 09 Nov 2019, 05:00 pm
Kāpiti Arts Trail
Kapiti Coast District Council, 175 Rimu Road, Paraparaumu
Kapiti Coast
Sun 10 Nov 2019, 10:00 am
Sun 10 Nov 2019, 05:00 pm
Kāpiti Arts Trail
Kapiti Coast District Council, 175 Rimu Road, Paraparaumu
Kapiti Coast
Arts Culture, Free Entry Event,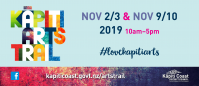 Celebrate Kāpiti in colour this Spring! The Kāpiti Arts Trail 2019 showcases a huge range of art, from traditional to cutting edge, soul-soothing to challenging, comfortable to provocative, and decorative, awe-inspiring or functional.
With over 100 listings in the beautifully produced Kāpiti Arts Guide, there's something for everyone: painting in oils, watercolour or mixed media; fibre arts; ceramics; jewellery; photography; street art; digital art; tattoo; glass; and wood. Many artists will be showing how they create their art during the Trail.
The Kāpiti Arts Trail stretches from Paekākāriki to Ōtaki, so while you're on the Trail you will get a great view of the stunning countryside, many superb artists' gardens in Spring, and spectacular views of Kāpiti Island. Free entry so plan a day or weekend with your family or friends, and check out some of the other attractions while you are in the beautiful Kāpiti Coast.
See our website for information about our artists and an interactive map. You can also pick up a copy of our printed Kāpiti Arts Guide from I-sites, libraries, and many other venues from September. Follow us on Facebook to see profiles of our artists and about support packages and offers from local Kāpiti businesses.
#lovekapitiarts #artstrail2019
Event Dates
Kāpiti Arts Trail
Kapiti Coast
Kapiti Coast District Council, 175 Rimu Road, Paraparaumu
View on map
Sat 02 Nov 2019, 10:00 am
Sat 02 Nov 2019, 05:00 pm
Kāpiti Arts Trail
Kapiti Coast
Kapiti Coast District Council, 175 Rimu Road, Paraparaumu
View on map
Sun 03 Nov 2019, 10:00 am
Sun 03 Nov 2019, 05:00 pm
Kāpiti Arts Trail
Kapiti Coast
Kapiti Coast District Council, 175 Rimu Road, Paraparaumu
View on map
Sat 09 Nov 2019, 10:00 am
Sat 09 Nov 2019, 05:00 pm
Kāpiti Arts Trail
Kapiti Coast
Kapiti Coast District Council, 175 Rimu Road, Paraparaumu
View on map
Sun 10 Nov 2019, 10:00 am
Sun 10 Nov 2019, 05:00 pm