Brrroom Brrroom Exhibition
Thu 25 Apr 2019, 09:00 am
Fri 14 Jun 2019, 04:00 pm
Expressions Whirinaki Arts & Entertainment Centre
836 Fergusson Drive
Upper Hutt
Fri 26 Apr 2019, 09:00 am
Sat 15 Jun 2019, 04:00 pm
Expressions Whirinaki Arts & Entertainment Centre
836 Fergusson Drive
Upper Hutt
Sat 27 Apr 2019, 09:00 am
Sun 16 Jun 2019, 04:00 pm
Expressions Whirinaki Arts & Entertainment Centre
836 Fergusson Drive
Upper Hutt
Sun 28 Apr 2019, 09:00 am
Mon 17 Jun 2019, 04:00 pm
Expressions Whirinaki Arts & Entertainment Centre
836 Fergusson Drive
Upper Hutt
Exhibitions, Wellington Region,
Wheelchair access, Accessible toilets
Expressions Whirinaki Arts & Entertainment Centre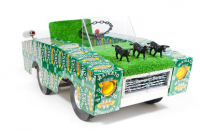 Zoom Zoom! Beep Beep! Toot Toot! Brrroom Brrroom! This child-focused exhibition features work from around New Zealand based on transportation, wheels and things that move. With a range of interactive activities including a large scale road and lots of cars, bikes, trikes, and trains, this is an art experience that moves.
Event Dates
Thu 25 Apr 2019, 09:00 am
Fri 14 Jun 2019, 04:00 pm
Fri 26 Apr 2019, 09:00 am
Sat 15 Jun 2019, 04:00 pm
Sat 27 Apr 2019, 09:00 am
Sun 16 Jun 2019, 04:00 pm
Sun 28 Apr 2019, 09:00 am
Mon 17 Jun 2019, 04:00 pm