AAAH2018 at Massey CoCA presents Master Class #1- Shaping Ink
3 hours ago, Thu 20 Sep 2018, 01:00 pm
1 hour ago, Thu 20 Sep 2018, 03:00 pm
Room 5E07 - Event Space, Building 5 (F Floor)
Massey University, Mount Cook
Wellington
Arts Culture, Conferences Workshops Classes, Cultural Ethnic, Visual Arts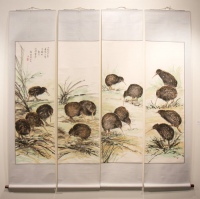 Led by Stan Chan and Yueyun Song, this workshop addresses ink, as used in Chinese traditional painting, and explores some different ways that people can take the art of shaping ink. Stan uses ink to create his art, but Yueyun, who trained initially in the Chinese traditional style, shows how the same ink and rice paper can be used in design to create effects with beauty, both using traditional Chinese techniques 染云法(Ranyun Fa)and 小斧劈皴法(Xiaofupi Cunfa), used to make cloud and stone effects in landscape painting, and other techniques, using the designer's eye.
Register for this workshop here: https://shaping-ink-workshop.lilregie.com/booking/attendees/new
------------------------------------------------------------------------------------
ABOUT AAAH2018
The Asian Aotearoa Arts Huì aims to support Asian New Zealand arts practitioners through presenting practice, sharing ideas and networking. The Huì aims to make visible settlement histories in Aotearoa and the creative cross-cultural conversations generating from our relationships with Māori, Pasifika, Pākeha, other migrant communities and with each other. This is a result of five years of sustained creative conversations and collaboration since the inaugural Chinese New Zealand Artists Hui at Corbans Estate, Auckland (2013) and the first Asian New Zealand Artists Hui at Te Tuhi in Auckland (2017).
AAAH2018 will be taking place this year from 3 - 23 September in Wellington, Aotearoa and will be hosted by Massey University College of Creative Arts (CoCA) and National Museum of New Zealand Te Papa Tongarewa. All Welcome.
Registrations are now open for the Saturday Symposium (22 Sep) at Te Papa:
https://aaah2018-symposium-at-te-papa.lilregie.com/booking/attendees/new
and weekend events, with more to come. All welcome.
Special thanks to our partners: Creative New Zealand, Wellington City Council, Chinese Poll Tax Heritage Trust, Asia New Zealand Foundation, Wellington Access Radio 106.1FM, Toi Pōneke Arts Centre, Te Tuhi, ST Paul Street AUT, Hainamana, Meanwhile Gallery, Enjoy Public Art Gallery, Blue Oyster Project Space, Pyramid Club, Big Thumb Restaurant & Carol Coutts Chartered Accountant.