AAAH2018 Progressive Morning Tea
Sun 23 Sep 2018, 09:00 am
Sun 23 Sep 2018, 12:30 pm
Tung Jung Association Building
33 Torrens Terrace, Mount Cook
Wellington
Arts Culture, Community, Conferences Workshops Classes,
$5 - $20 Koha for AAAH2018 Saturday Symposium ticket holders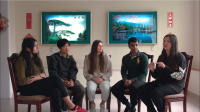 The final event of the Asian Aotearoa Arts Hui will introduce participants to two historic sites of significance, the Tung Jung (est 1926) and Seyip (est 1949) association buildings located in central Wellington. Since the early 20thcentury, these county organisations have provided support for the early Chinese community settling in the city, arranging accommodation for new arrivals and often loans, jobs and interpreters. In recent years they serve as venues for social gatherings, traditional festival celebrations and other community activities.
The morning tea will begin at 9am at the Tung Jung Association (33 Torrens Terrace), and will feature a screening of a short documentary, Cast Out:逐about a Newtown man, Kim Lee, who in 1903 was exiled to Mokopuna Island in Wellington harbour. The 15-minute film was directed by Matilda Boese-Wong with her team of Victoria University film students who will be there at the showing.
It will be followed by a facilitated discussions on artists' responsibility and 'where to from here?', led by Mengzhu Fu.
The morning tea will conclude at the Seyip Association (21-25 Ghuznee Street) with a short workshop led by Renee Liang on cross-cultural ritual and practice.
------------------------------------------------------------------------------------
ABOUT AAAH2018

The Asian Aotearoa Arts Huì aims to support Asian New Zealand arts practitioners through presenting practice, sharing ideas and networking. The Huì aims to make visible settlement histories in Aotearoa and the creative cross-cultural conversations generating from our relationships with Māori, Pasifika, Pākeha, other migrant communities and with each other. This is a result of five years of sustained creative conversations and collaboration since the inaugural Chinese New Zealand Artists Hui at Corbans Estate, Auckland (2013) and the first Asian New Zealand Artists Hui at Te Tuhi in Auckland (2017).

AAAH2018 will be taking place this year from 3 - 23 September in Wellington, Aotearoa and will be hosted by Massey University College of Creative Arts (CoCA) and National Museum of New Zealand Te Papa Tongarewa. All Welcome.
Registrations are now open for the Saturday Symposium (22 Sep) at Te Papa:
https://aaah2018-symposium-at-te-papa.lilregie.com/booking/attendees/new
and weekend events, with more to come. All welcome.

Special thanks to our partners: Creative New Zealand, Wellington City Council, Chinese Poll Tax Heritage Trust, Asia New Zealand Foundation, Wellington Access Radio 106.1FM, Toi Pōneke Arts Centre, Te Tuhi, ST Paul Street AUT, Hainamana, Meanwhile Gallery, Enjoy Public Art Gallery, Blue Oyster Project Space, Pyramid Club, Big Thumb Restaurant & Carol Coutts Chartered Accountant.