ENCOUNTERS - WORLD PREMIERE
Wed 03 Mar 2021, 06:30 pm - 8:30pm
The Embassy Theatre
11 Kent Terrace
Wellington
Film Media Entertainment, Visual Arts, Arts Culture,
Adults $20, Students $16 - see website for full info.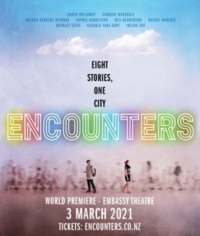 Encounters is a collaboratively made anthology feature film that interweaves eight tales of love, life and death. Eight emerging New Zealand directors and a diverse cast and crew came together to tell a range of delightful, disturbing, romantic and rebellious stories. With a 50-50 gender split in filmmaking voices, the multi-genre film was independently made throughout the Wellington region.
Produced through Oneshot Collective, Encounters is collaborative, independent filmmaking for a new generation of emerging New Zealand film talent. The film was designed to encourage more collaboration and opportunity for emerging screen talent to gain experience.
Cast includes Siobhan Marshall (Pork Pie/Outrageous Fortune), Cohen Holloway (Hunt for the Wilderpeople/Bellbird/What We Do In The Shadows), Sophie Hambleton (Westside), Neenah Dekkers-Reihana (WARU), Rachel Roberts (The Rehearsal), Brynley Stent (Funny Girls) and more.
Directed by: Jane Fletcher, Constance Gervasi, Chaz Harris, Bea Joblin, Sina Leasuasu, Conan McKegg, Luke McMeeken-Ruscoe and Scott Milligan.
Screening for one night only, this is your only chance to catch this Wellington-shot film on Wellington's biggest screen prior to the film's release OnDemand. For those with tickets containing digital downloads, these will be made available to ticket holders via email by 4 March 2021. A Q&A with some of the filmmaking team will be held following the screening.
Encounters is rated R-16 and contains violence, sexual violence, offensive language and content that may disturb.
Please note: In case of a COVID-19 Alert Level change near 3rd March 2021, the alternative date for this event is Wednesday 28th April 2021. Please ensure you are available to attend both dates when purchasing tickets.