Aperture - The Life and Work of Ans Westra
Fri 16 Jul 2021, 08:00 pm - 9:15pm
Expressions Whirinaki Arts & Entertainment Centre
836 Fergusson Drive
Upper Hutt
Performing Arts, Wellington Region,
Wheelchair access, Accessible toilets
$20 Adult, $18 Friends of Expressions
Expressions Whirinaki Arts & Entertainment Centre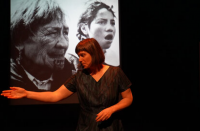 A creative and innovative play about Ans Westra, a NZ Arts Foundation Icon photographer. In 19578, Ans Westra emigrated from the Netherlands to New Zealand and began to take photos. Fascinated by Māori culture in particular, she created an intimate and uniquely historical documentation of Māori life.