Apartment
Performing Arts, Theatre, Arts Culture
Wheelchair Access, Accessible Toilets
Waged $27.50, Unwaged $22.50, Child $17.50
Wellington Repertory Theatre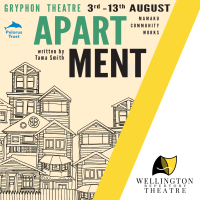 WRT is proud to be supporting the development of this brand-new New Zealand play.

Bitter-sweet and locally focused, this new and exciting play by Tama Smith, Apartment explores the intersection of the lives of a cluster of characters, living in the close quarters of an apartment block, as their world is pitched into the 2020 Covid-19 lockdown.
Two years on, and against a backdrop of current division, the hope is now that the production will stand not as a testament to the trauma of those early days of the pandemic, but rather a means to acknowledge the vital realisation, although forced into isolation, community and kindness was what the country chose to hang our collective hope on. When the promise of a vaccine was '5 or 6 years off' and most countries were in the horrific grip of overwhelming hospitalisations and deaths, here in New Zealand, along with a rigorous and robust trust in science, we decided that standing together (2 metres apart) would define our defiance of the biggest 'unprecedented' dilemma of recent history.