"If the mind is correct, the brush is correct"
Thu 18 Apr 2019, 05:30 pm
Sat 11 May 2019, 04:00 pm
Freit Contemporary Gallery
10 High Street, Frankton
Hamilton
Visual Arts, Free Entry Event, Exhibitions, Waikato Region
Free. Bookings essential for performance.
Reserve spaces for the performance at mindbrush.nz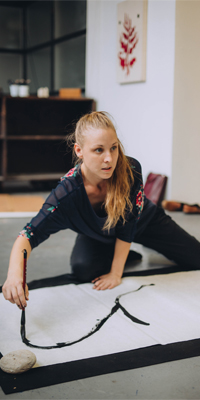 Opening performance: 18 April, 5:30 pm (starts 6 pm)
Dominique Marriott is inviting you behind the scenes in an exciting first-ever performance. She will be painting live from a nude model in the gallery, allowing the audience to see her fast-paced, energetic process in person.
Dominique's practice is largely influenced by Zen and Eastern philosophy. To understand these concepts, she studies Shodō—The Way of Japanese Calligraphy—infusing it into her work. Each piece is painted in just a few minutes using a traditional calligraphy brush.
A large volume of work is created in a session, then the best are selected to be final artworks. Visitors will see the failures, the successes, and the energy behind her art.
Dominique is a Waikato-based artist and has a degree in Visual Arts from Unitec in Auckland. She is currently training under Akiko Crowther, one of the few Grand Masters of Japanese Calligraphy living outside Japan.
Exhibition open: 18 April – 11 May | Tue – Sat, 12 – 4 pm