Ōtaki Kite Festival
View all Dates
Sat 06 Feb 2021, 10:00 am - 5:00pm
Ōtaki Beach
Marine Parade, Ōtaki
Ōtaki
Sun 07 Feb 2021, 10:00 am - 5:00pm
Ōtaki Beach
Marine Parade, Ōtaki
Ōtaki
Free Entry Event, Festivals, Community Event, Children, Arts Culture,
Wheelchair access, Accessible toilets, Mobility parking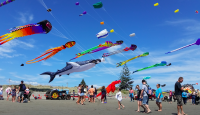 A fabulous free weekend of family fun, market stalls & entertainment at Ōtaki beach – jewel of the Kapiti Coast. Be wowed by every kind of kite imaginable from the giant to the tiny, acrobatic and single line, weird and wonderful, traditional Maori and international designs. A festival for everyone - kids and grown-ups, amateurs and professionals.
Event Dates
Sat 06 Feb 2021, 10:00 am
Sat 06 Feb 2021, 05:00 pm
Sun 07 Feb 2021, 10:00 am
Sun 07 Feb 2021, 05:00 pm