'Star Relations', Maungarongo (Ron) Te Kawa & 'Here-Turi-Koka', Te Aio o Te Atiawa
Arts Culture, Maori, Crafts, Free Entry Event
Wheelchair Access, Mobility Parking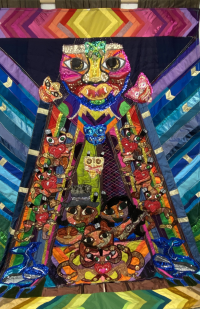 Star Relations, Maungarongo (Ron) Te Kawa & Te Aio o Te Atiawa, Here-Turi-Kōkā
Maungarongo (Ron) Te Kawa (Ngāti Porou) has been working prolifically in the arts, community development and education across Aotearoa New Zealand for decades. Using sewing as a conduit to connect with people, his legendary workshops have given countless participants the confidence to create and express with fabric.
Ron Te Kawa's show Star Relations is all about family and relationships.
Te Aio o Te Atiawa, Here-Turi-Kōkā, features quilts made by three kuia in a recent workshop in Kāpiti with him.
MAHARA iti is the Kāpiti Coast district temporary gallery space. Open Mon - Fri, 10am - 4pm.