Wellington SPCA School Holiday Programmes
Mon 26 Sep 2016, 09:00 am
Fri 07 Oct 2016, 04:00 pm
Children,Education,Animals Pets,
Wellington SPCA
140 Alexandra Road
Wellington
Wheelchair access, Accessible toilets, Mobility parking
For children aged 6 years to 16 years of age.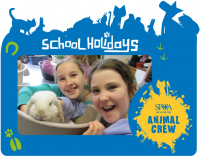 Our Animal Crew programmes offer a huge variety of animal events just for kids between 6 and 16 years of age. Young animal lovers are invited along to learn about pets in a fun, hands-on and safe environment, whilst making friends, playing games, interacting with and helping our amazing SPCA animals. Kids will learn about a variety of topics which could include everything from dog training, animal care and responsible animal guardianship to improving our community for our animals and each other. Kids are not the only ones who will have fun - all our Animal Crew events feature fun and safe interactions with select animals from our centre.
Event Dates
Mon 26 Sep 2016, 09:00 am
Mon 26 Sep 2016, 04:00 pm
Tue 27 Sep 2016, 09:00 am
Tue 27 Sep 2016, 04:00 pm
Wed 28 Sep 2016, 09:00 am
Wed 28 Sep 2016, 04:00 pm
Thu 29 Sep 2016, 09:00 am
Thu 29 Sep 2016, 04:00 pm
Fri 30 Sep 2016, 09:00 am
Fri 30 Sep 2016, 04:00 pm
Mon 03 Oct 2016, 09:00 am
Mon 03 Oct 2016, 04:00 pm
Tue 04 Oct 2016, 09:00 am
Tue 04 Oct 2016, 04:00 pm
Wed 05 Oct 2016, 09:00 am
Wed 05 Oct 2016, 04:00 pm
Thu 06 Oct 2016, 09:00 am
Thu 06 Oct 2016, 04:00 pm
Fri 07 Oct 2016, 09:00 am
Fri 07 Oct 2016, 04:00 pm