Wairarapa Country Music Festival
Fri 13 Jan 2017, 11:00 am
7 days ago, Sun 15 Jan 2017, 03:00 pm
Community,Gigs Concerts,Festivals,Performing Arts
Tauherenikau Racecourse
Main Rd Tauherenikau
Featherston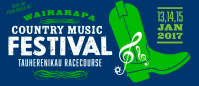 We are delighted to announce that the Topp Twins are coming to the Wairarapa Country Music Festival 2017! Their performance on Saturday 14th January 2017 will be a highlight of this 3-day festival.
A New Zealand cultural institution, the Topp Twins popularity has spread around the world. Their unique blend of seriously good original country music, comedy characters and some of the finest yodelling you'll hear anywhere, has won them many awards and accolades.
Spontaneity is a vital ingredient of their magic on stage, as they re-invent themselves – changing character, musical style and gender with ease. Armed with a guitar, mouth-harp and spoons they deliver original songs, audience participation, comedy and burlesque innuendo in a fast-paced hilarious entertainment experience.
The full Festival line-up: joining the Topp Twins on stage, and back by popular demand, is Eddie Low. Eddie wowed audiences at our 2016 event, and we can't wait to see him perform again. Also appearing across the weekend will be the Toner Sisters, Glen Moffatt, Sue Dyson, Molly G Paige, and Murray McMichael.
Tauherenikau Racecourse is set amongst 100 acres of beautiful bush and large native trees. Tauherenikau has full facilities for self-certified motorhomes and caravans. Check out the combo Festival Ticket & Accommodation packages available. Find out more about staying on the website.
Ticket Information:
Adult 3 Day Pass:

$50.00

Adult Single Day Pass:

$20.00

Adult Single Day Pass Saturday :

$40.00

Premium Adult Single Day Pass:

$60.00

Child Pass:

$10.00

Family Pass:

$50.00

Family Pass Saturday :

$90.00

Motorhome or Caravan Package for 2:

$130.00

Premium Motorhome or Caravan Package:

$170.00
Additional fees may apply
Event Dates
Fri 13 Jan 2017, 11:00 am
Fri 13 Jan 2017, 10:00 pm
Sat 14 Jan 2017, 11:00 am
8 days ago, Sat 14 Jan 2017, 10:00 pm
7 days ago, Sun 15 Jan 2017, 11:00 am
7 days ago, Sun 15 Jan 2017, 03:00 pm