Upper Hutt Musical Theatre present "The Musical of Musicals - The Musical-"
Wed 17 May 2017, 08:00 pm
3 days ago, Sat 27 May 2017, 10:00 pm
Musical Theatre, Comedy, Performing Arts, Theatre
Up-Stage Theatre
26A Moonshine Road
Upper Hutt
Expressions Whirinaki Arts & Entertainment Centre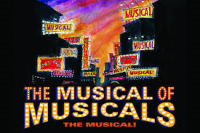 Like musicals? Then you'll love The Musical of Musicals - The Musical! A musical about musicals! A hilarious satire of musical theatre where one story becomes five delightful musicals, each written in the distinctive style of a different master of the form.
June is an ingénue who can't pay the rent and is threatened by her evil landlord. Will the handsome leading man come to the rescue? Performed as:
-A Rodgers & Hammerstein version, set in Kansas in August, complete with a dream ballet;
-A Sondheim version, featuring the landlord as a tortured artistic genius who slashes the throats of his tenants in revenge for not appreciating his work;
-A Jerry Herman version, as a splashy star vehicle;
-An Andrew Lloyd Webber version, a rock musical with themes borrowed from Puccini; and
-A Kander & Ebb version, set in a speakeasy in Chicago.
Event Dates
Wed 17 May 2017, 08:00 pm
Wed 17 May 2017, 10:00 pm
Thu 18 May 2017, 08:00 pm
Thu 18 May 2017, 10:00 pm
Fri 19 May 2017, 08:00 pm
Fri 19 May 2017, 10:00 pm
Sat 20 May 2017, 08:00 pm
Sat 20 May 2017, 10:00 pm
Sun 21 May 2017, 08:00 pm
Sun 21 May 2017, 10:00 pm
8 days ago, Mon 22 May 2017, 08:00 pm
8 days ago, Mon 22 May 2017, 10:00 pm
7 days ago, Tue 23 May 2017, 08:00 pm
7 days ago, Tue 23 May 2017, 10:00 pm
6 days ago, Wed 24 May 2017, 08:00 pm
6 days ago, Wed 24 May 2017, 10:00 pm
5 days ago, Thu 25 May 2017, 08:00 pm
5 days ago, Thu 25 May 2017, 10:00 pm
4 days ago, Fri 26 May 2017, 08:00 pm
4 days ago, Fri 26 May 2017, 10:00 pm
3 days ago, Sat 27 May 2017, 08:00 pm
3 days ago, Sat 27 May 2017, 10:00 pm