ThroughBlue
Fri 02 Dec 2016, 12:30 pm
Fri 16 Dec 2016, 12:00 am
Community,Conferences Workshops Classes,Health Wellness,Personal Development
Willis Street
Please email join.throughblue@gmail.com for details and your email will be answered by a volunteer within a week to arrange your first meeting.
Wellington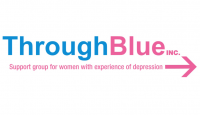 When do we meet?
We meet every Friday 12:30 - 2:30pm, in Willis Street, Wellington. Please email join.throughblue@gmail.com for details and your email will be answered by a volunteer within a week to arrange your first meeting.
How much does it cost?
The group is facilitated by two professional counsellors. We ask for a donation of $10 waged and $5 unwaged per meeting to cover food and go towards some of the venue hire costs.
Who can attend?
Any woman in Wellington is welcome to attend our regular meetings - there is wide spectrum of experience of depression in the group - from very mild to more severe. Some people may have experienced depression in the past and come along to help manage relapses. It is a very diverse group and ranges in number from week to week - from 3 to 14 people. It is a friendly and non-threatening environment and most newcomers find it to be very welcoming and inclusive. ThroughBlue is not affiliated with any religious organisation or church. You are welcome to participate as much as you wish in terms of talking about your experience, or to sit and observe without having to say anything, depending on what suits you. There is a structure to the meetings, with a new topic each week.
Do you provide childcare?
Pre-school childcare can be arranged. (please let us know in advance if you need this)
What is the structure of group meetings?
- 12.30pm Meditative grounding exercise
- 12.40pm Opening round – how was your week, a highlight, did you achieve your goal, or anything else you'd like to say
- 1.30pm Tea break (about 10 minutes)
- 1.40pm Educational topic
- 2.20pm Closing round - what you found useful, something you are looking forward to this week, possibility to set a goal for the week to come.
- 2.30pm Finish
Event Dates
Willis Street
Wellington
Please email join.throughblue@gmail.com for details and your email will be answered by a volunteer within a week to arrange your first meeting.
View on map
Fri 02 Dec 2016, 12:30 pm
Fri 02 Dec 2016, 02:30 pm
Willis Street
Wellington
Please email join.throughblue@gmail.com for details and your email will be answered by a volunteer within a week to arrange your first meeting.
View on map
Fri 09 Dec 2016, 12:30 pm
Fri 09 Dec 2016, 02:30 pm