The Winery Tour
Fri 17 Feb 2017, 05:00 pm
Sun 19 Feb 2017, 10:00 pm
Gigs Concerts, Music, Family,
Neudorf Vineyards
138 Neudorf Rd, Nelson 7175
Upper Moutere
The Winery Tour is an all ages event: one child ad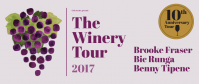 Celebrating its 10th anniversary, The Winery Tour will be returning in 2017 with an all star lineup featuring two of New Zealand's most successful artists of all time, Brooke Fraser and Bic Runga, and exciting newcomer Benny Tipene.
The Winery Tour 2017 will present ten shows around New Zealand, celebrating the Kiwi summer in the best way possible, with outstanding music and great wine in some of New Zealand's most idyllic wineries and outdoor venues.
Brooke Fraser and Bic Runga have each won the APRA silver scroll for Song of the Year, been awarded a total of 32 NZ music awards between them, and have combined catalogue sales of more than 650,000 albums in NZ alone (a whopping 43 x platinum), including 21 top forty singles. Their songs are woven into the very fabric of New Zealand life: Something in the Water, Sway, Better, Drive, Arithmetic, Something Good, Shadowfeet, Get Some Sleep, Deciphering Me and many, many more. Opening the show will be Winery Tour newcomer Benny Tipene, an exciting new talent rapidly making a very big name for himself in NZ. Benny exploded onto the airwaves with four hits from his debut album 'Bricks' including the #1 platinum single "Walking on Water" and top ten gold single "Lonely".
Promoters Brent Eccles and Campbell Smith are delighted that The Winery Tour has reached the ten year milestone: "We love the Winery Tour, it's simply the best and most fun tour we produce" says Smith. "We can scarcely believe that we have clocked up 139 shows over the past decade, most of them truly amazing gigs, by great NZ artists in stunning NZ locations. We just want more of the same and we know the fans do too. We couldn't think of a better bill to celebrate this milestone, the 2017 Winery Tour is destined to be one of the very best".
Tickets are on sale now for $79 (+booking fee). Children under the age of 12 will be granted free entry when accompanied by an adult ticket holder (one child per ticket holder). For ticket information and to purchase please see The Winery Tour website www.winerytour.co.nz - special bus tickets will also be available.
Civic Events presents The Winery Tour 2017
With Brooke Fraser, Bic Runga, and Benny Tipene
FEBRUARY
Friday 3 Hamilton Vilagrad Winery
Saturday 4 Matakana Ascension Wine Estate
Sunday 5 Whangarei Toll Stadium
Friday 10 Havelock North Black Barn Vineyards
Saturday 11 Wellington Basin Reserve
Friday 17 Upper Moutere Neudorf Vineyards
Saturday 18 Waipara Waipara Hills
Sunday 19 Auckland Villa Maria Winery
Event Dates
Neudorf Vineyards
Upper Moutere
138 Neudorf Rd, Nelson 7175
View on map
Fri 17 Feb 2017, 05:00 pm
Fri 17 Feb 2017, 10:00 pm
Waipara Hills
Canterbury
780 Glasnevin Rd, Waipara, North Canterbury 7483
View on map
Sat 18 Feb 2017, 05:00 pm
Sat 18 Feb 2017, 10:00 pm
Villa Maria Winery
Auckland
118 Montgomerie Rd, Mangere, Manukau 2153
View on map
Sun 19 Feb 2017, 05:00 pm
Sun 19 Feb 2017, 10:00 pm