The Emperor's Nightingale
Sat 08 Oct 2016, 11:00 am
Sat 08 Oct 2016, 02:00 pm
Children,Theatre,Family,Performing Arts
Coasters Musical Theatre
15 Hinemoa Street
Paraparaumu
$6.50, $25 family of 4, Under 2's free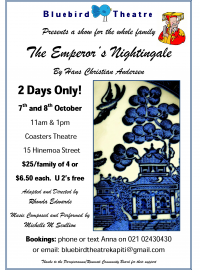 Kapiti's Bluebird Theatre proudly present 'The Emperor's Nightingale' by Hans Christian Andersen, adapted by Rhonda Edwards.
An enchanting show for the whole family, from 3 - 93 years!
Set in China many many moons ago, an Emperor longs to hear the beautiful song of the Nightingale, said to be the most beautiful music in all the world. After a long search his Courtiers find her and bring her to the palace, but will her song make the Emperor happy? And will the Nightingale stay in the palace forever?
With original music composed and performed by local composer Michelle Scullion, this production is magical, mystical and very funny too!
When: Fri 7th and Sat 8th Oct, 11am and 1pm shows.
Where: Coasters Theatre, 15 Hinemoa Street, Paraparaumu
Cost: $6.50 each or $25 family of 4, Under 2's free
Bookings: Anna on 02102430430 or email bluebirdtheatrekapiti@gmail.com
Event Dates
Coasters Musical Theatre
Paraparaumu
15 Hinemoa Street
View on map
Sat 08 Oct 2016, 11:00 am
Sat 08 Oct 2016, 12:00 pm
$6.50, $25 family of 4, Under 2's free
Coasters Musical Theatre
Paraparaumu
15 Hinemoa Street
View on map
Sat 08 Oct 2016, 01:00 pm
Sat 08 Oct 2016, 02:00 pm
$6.50, $25 family of 4, Under 2's free