Taste of the ABC- Painting & Drawing
Mon 23 Jan 2017, 10:00 am
Fri 27 Jan 2017, 04:00 pm
Arts Culture,Education,Visual Arts,Personal Development
Inverlochy Art School
3 inverlochy Place Te Aro Wellington
Wellington
All Basic materials supplied.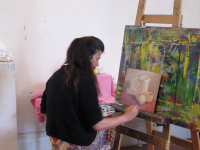 This summer school course is about the fundamentals of painting … developing a painting from idea to completion. Starting with preparing the canvas, setting up a composition, under-painting and looking at colour palette options. It is a course jam packed full of 'how to' tips, tricks and expertise.
For a beginner this course gives you the basic knowledge about where to begin. For an experienced painter it is an opportunity to tackle problems, add to your repertoire of painting skills and give them a significant boost.
It touches on subjects that are covered in far more detail in the full ABC of Painting course, and is an opportunity to meet and work with the tutor for that course, Sarah Brock, whose objective is to mentor and support you as you progress on your artistic journey.
Materials are supplied for oil painting, please contact the tutor for a list of colours required if you want to do the course using acrylics.