Sweet As Vegas
6 days ago, Sat 17 Sep 2016, 02:00 pm
6 days ago, Sat 17 Sep 2016, 09:45 pm
Music,Dance,Gigs Concerts,Fundraising
Charles Luney Auditorium
St Margaret's College, 12 Winchester St, Merivale
Christchurch
Adults $25, Children under 14 $10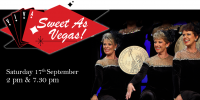 Come and support the Christchurch City Chorus as they head off to represent New Zealand and Sweet Adelines Region 35 at the 2016 International Competition in Las Vegas. Enjoy a show jam-packed with a capella singing, jazz music and hip hop dancing.
Special friends Molly's Remedy, Asti-Loren, Moorhouse Dancers, performers from the Patricia Paul School of Dance, Sarah Templeton, Sideline Swing Big Band (2 pm show only), and Dunedin Harmony Chorus will be performing. There will also be performances from Aftershock! Quartet (also representing New Zealand in Las Vegas), Key Note Quartet and High Jinx.
Tickets
Adults - General Admission $25
Children under 14 $10
Email Melvena at lovetosing@ccchorus.co.nz now or visit ticket sales to reserve your ticket.
Event Dates
Charles Luney Auditorium
Christchurch
St Margaret's College, 12 Winchester St, Merivale
View on map
6 days ago, Sat 17 Sep 2016, 02:00 pm
6 days ago, Sat 17 Sep 2016, 04:15 pm
Adults $25, Children under 14 $10
Charles Luney Auditorium
Christchurch
St Margaret's College, 12 Winchester St, Merivale
View on map
6 days ago, Sat 17 Sep 2016, 07:30 pm
6 days ago, Sat 17 Sep 2016, 09:45 pm
Adults $25, Children under 14 $10