St Brigid's School Fair
Sun 13 Nov 2016, 10:30 am
Sun 13 Nov 2016, 01:30 pm
Family,Children,Community,Fundraising
St Brigid's School
9 Phillip St
Johnsonville
Family event, all ages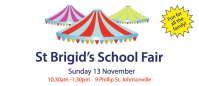 We have a great selection of scrumptious food from around the world at our ethnic food stalls, and delicious cakes and sweet treats at the café. Heaps of fun for the kids including a bouncy castle, Police and Fire Department displays, a photo booth, games, face painting, henna designs, the ever popular sumo wrestling and much, much more!
There are some great silent auction items up for grabs along with spot prizes at our tambola and spin-the-wheel. For those looking for a bargain, we have quality hand made craft items, plants and second-hand books, toys, clothing and bric-a-brac.
A fun day out for all ages! See you there, rain or shine.