Show Me Shorts Festival Opening Night
Thu 13 Oct 2016, 08:00 pm
Thu 13 Oct 2016, 10:00 pm
The Embassy Theatre
10 Kent Terrace, Mount Victoria
Wellington.
Wheelchair access, Accessible toilets, Mobility parking
Tickest available via Embassy Theatre website!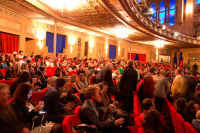 The Wellington Opening Night for Show Me Shorts Film Festival will be held on 13 October at The Embassy Theatre in Wellington, where Show Me Shorts brings together both film makers and film enthusiasts to celebrate the best and brightest in the industry. This is the first time that the festival has screened at the most prestigious cinema in arguably New Zealand's film capital.
Show Me Shorts is New Zealand's leading international short film festival. Its mission is to connect audiences with quality short films, celebrate excellence in short film making and foster the New Zealand short film community.
Tickets for Wellington's Opening Night are available through The Embassy website.
https://www.eventcinemas.co.nz/Movie/Show-Me-Shorts-Opening-Night#cinemas=512&date=2016-10-13