Shh by Sadie Relocation Jewellery Sale
Sat 01 Oct 2016, 10:00 am
Sat 01 Oct 2016, 03:00 pm
Shopping Retail,Fashion Beauty,Crafts,Hobbies Special Interest
Mount Victoria Centre
24E Elizabeth St, Mt Victoria
Wellington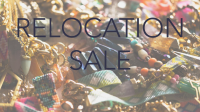 Shh by Sadie is relocating to the UK!
We are celebrating with a final NZ fling and relocation sale 10-3pm Saturday 1st October.

There will be current pieces....one off pieces....samples and more. All at discounted prices!

Quantities are limited - to reserve pieces in advance visit Shhbysadie.com and email hello@shhbysadie.com with your requests.

For more information email hello@shhbysadie.com
About Shh by Sadie
Shh by Sadie jewellery is one of the most exciting New Zealand accessory brands to emerge in recent years.
A collection of luxury jewellery carefully hand created by Welsh designer Sadie Hawker, her pieces reflect her love of fun, colourful, on trend statement jewellery that will last longer than one season.

Sadie hunts down limited stashes of vintage beads, chains and embellishments, and so Shh by Sadie pieces are often one of a kind or limited edition.
Shh by Sadie has featured in Kate Nash's music video, UK's Woman and Home, USA's Lucky Magazine online; Air NZ's Kia Ora magazine; REMIX; The Dominion Post; Woman's Weekly New Zealand; Your Home, Capital; FishHead; Shoe Connection A/W and S/S campaigns 2012 - 2016 and various others.