Screenies Children's International Film Festival Aotearoa
1 hour ago, Sat 24 Sep 2016, 09:00 am
Sun 25 Sep 2016, 09:00 pm
Festivals,Children,Family,Community
TAPAC
100 Motions Rd, Western Springs
Auckland
All Ages, see screenies.nz for the programme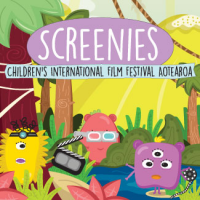 Film festivals are much-loved events worldwide and we are proud to bring New Zealand's first dedicated film festival for children (3-15 years) to New Zealand.
Screenies offers a unique cinema experience with a 'festival' feel. Children and parents can attend together and enjoy the workshops in between sessions. The films are curated in packages that have a range of film-making techniques from animation to live action, come from different parts of the world, and cover many different themes.
Preparing our young people to thrive in a rapidly developing global media environment requires a sense of their place in the world. Increasingly young people gain their knowledge of the world from media. Screenies aims to bring diverse cultural cinema and new digital experiences to Auckland children and youth.
Extra Workshops around the festival:
Mini Mobile Movie Makers (7-10 yrs)
Mega Mobile Movie Makers (11-15 yrs)
Screenies Filmmaking Intensive (13-16 yrs)
Event Dates
TAPAC
Auckland
100 Motions Rd, Western Springs
View on map
1 hour ago, Sat 24 Sep 2016, 09:00 am
Sat 24 Sep 2016, 07:00 pm
TAPAC
Auckland
100 Motions Rd, Western Springs
View on map
Sun 25 Sep 2016, 09:30 am
Sun 25 Sep 2016, 09:00 pm