SUMMER STUDIO ARTS TOUR 2017
Sat 04 Feb 2017, 10:00 am
Mon 06 Feb 2017, 03:00 pm
Arts Culture, Visual Arts,
Waikanae/Peka Peka area
Personal Art Studios and Galleries throughout Waikanae and Peka Peka
Waikanae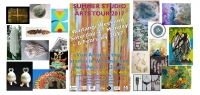 Our Summer Arts Tour runs over the three days of Waitangi weekend roaming through the area of Waikanae Beach, Waikanae and Peka Peka on the Kapiti Coast, visiting some of our talented artists in their studios, as well as three of our fantastic Art Galleries.
The approx 19 artists in their Studios over the Tour cover many art disciplines.
Please contact me if you require any further information.
0211810453