Pink Star Walk - The New Zealand Breast Cancer Foundation
Sat 08 Oct 2016, 04:00 pm
Sat 12 Nov 2016, 09:00 pm
Fundraising,Sport,Health Wellness,
Auckland Domain
Auckland Domain Park Rd, Grafton, Auckland 1010
Auckland
See website for event costs
The New Zealand Breast Cancer Foundation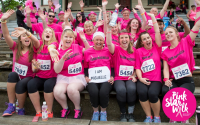 The Pink Star Walk is a fundraising walk for men, women and children of all ages and fitness levels in Auckland, Wellington and Christchurch at dusk in support of the NZ Breast Cancer Foundation.The Pink Star Walk will be like no other so dig out your pinkest and brightest outfit and join thousands of people across the country as we get fit, increase awareness of breast cancer and raise money to support NZ women. The cost of your ticket covers the cost of the walk; in order to make a real difference we're asking all walkers to consider going the extra mile and fundraising. We need you to be a star! By raising just $250 you could help with the following: - Three counselling sessions for two women recovering from or living with breast cancer. - Six tumour samples from the tissue bank used for genetic testing in research studies. - Hundreds of breast books distributed around the country to help keep women safe. - Much more in the areas of research, education and support. Don't worry, it's super easy to fundraise and you'll be guided through the process at the end of your registration.
Event Dates
Auckland Domain
Auckland
Auckland Domain Park Rd, Grafton, Auckland 1010
View on map
Sat 08 Oct 2016, 04:00 pm
Sat 08 Oct 2016, 09:00 pm
See website for event costs
Hagley Park
Christchurch
14 Riccarton Avenue Christchurch Central
View on map
Sat 29 Oct 2016, 04:00 pm
Sat 29 Oct 2016, 09:00 pm
See website for event costs
Frank Kitts Park
Wellington City
Frank Kitts Park
View on map
Sat 12 Nov 2016, 06:30 pm
Sat 12 Nov 2016, 09:00 pm
See website for event costs