Over-Under - Alice Alva
Fri 10 Mar 2017, 10:00 am
Sat 01 Apr 2017, 04:00 pm
Arts Culture, Exhibitions, Visual Arts,
Toi Pōneke Gallery
61 Abel Smith Street Te Aro
Wellington
Wheelchair access, Accessible toilets, Mobility parking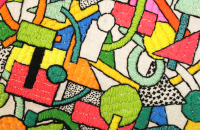 Alice Alva presents Over/Under, an exhibition investigating the physical connections between traditions of textile and pattern making, domestic crafts, ornamentation and decoration.
Alva is known for her lively explorations of colour, geometry and shape through bright, eye popping drawings and paintings. As the title Over/Under suggests, the artist plays on physical act of stitching to present a contemporary take on traditional craft practices.
Alva re-imagines an array of her existing hand-drawn patterns as bold new embroideries. The electrifying combination of hand-stitched and beaded works zing across the gallery walls.