NZDC YEP- Auckland Spring School 2016
Mon 03 Oct 2016, 09:00 am
Fri 07 Oct 2016, 04:00 pm
Dance,Performing Arts,Seasonal Holiday,Conferences Workshops Classes
Wellesley Studios
113 Wellesley Street West
Auckland
The New Zealand Dance Company
Age range 11+ - 20 Girls and 20 Bros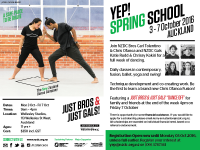 New Zealand Dance Company
YEP! AUCKLAND SPRING SCHOOL 2016
JUST BROS & JUST GALS!
Join NZDC Bros Carl Tolentino & Chris Ofanoa and NZDC Gals Katie Rudd & Chrissy Kokiri for a full week of dancing.
Daily classes: contemporary, fusion, ballet, yoga and Swing!
Technique development and co-creating work.
Be the first to learn a brand new Chris Ofanoa Fusion!
Featuring a JUST BROS & JUST GALS "DANCE OFF" for family and friends at the end of the week, 4pm on Friday 07 October.
Dates: Monday 03 October – Friday 07 October 2016
Times: 9.00am – 4pm
DANCE OFF: Friday 4pm
Location: Wellesley Studios, 113 Wellesley St West, Auckland
Registrations: Open now until Monday 03 October 2016, unless full earlier.
Ages: 11+ years students. NB. Maximum 20 Bros and maximum 20 Gals
Cost: $350 incl. GST
There is opportunity for financial assistance. If you would like to apply for a scholarship, please email Kerry-Ann at kerry-ann.stanton@nzdc.org.nz. All scholarships are awarded on individual financial need, based on a referee's endorsement.
Refund Policy: No refunds will be given for withdrawal after Monday 26 September 2016. Withdrawals prior will be charged a 15% admin fee.
Event Dates
Mon 03 Oct 2016, 09:00 am
Mon 03 Oct 2016, 04:00 pm
Tue 04 Oct 2016, 09:00 am
Tue 04 Oct 2016, 04:00 pm
Wed 05 Oct 2016, 09:00 am
Wed 05 Oct 2016, 04:00 pm
Thu 06 Oct 2016, 09:00 am
Thu 06 Oct 2016, 04:00 pm
Fri 07 Oct 2016, 09:00 am
Fri 07 Oct 2016, 04:00 pm