Modulation - Shannon Novak
Mon 19 Dec 2016, 03:00 pm
Mon 03 Apr 2017, 11:59 pm
Arts Culture, Visual Arts,
Courtenay Place Park
Courtenay Place
Wellington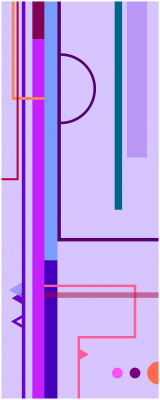 Modulation
Until 3 April
Shannon Novak's Courtenay Place Park light box project Modulation demonstrates his ongoing interest in the ways we perceive shape, space, colour, rhythm, energy and sound. He creates chromatic and compositional relationships that respond to both visual references and the energy of an object, site or body.
This project creates a dynamic experience that is engaging and interactive. Through the use of mobile technology, it encourages new audiences to experience traditional forms of art. It activates another dimension of the light boxes, extending their reach into virtual space. The light boxes build awareness of the phenomenon of synaesthesia and its potential for creative exploration, as well as (re)connecting the disciplines of visual art, music and moving image/animation.
Get the full experience
Make the most of this exhibition – download the Aurasma app on the Apple App Store or Google Play. Use the app to follow the Shannon Novak channel and then scan any one of the eight circular motifs at the exhibition that face the footpath.