Mobile Movie Makers -MOTAT
Wed 26 Apr 2017, 09:30 am
Fri 28 Apr 2017, 12:00 am
Children, Film Media Entertainment, Conferences Workshops Classes,
MOTAT
805 Great North Road
Auckland
https://megamobilemoviemakers-motat-9-12.eventbrit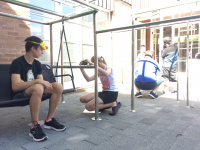 In one to two action-packed days kids will explore how to use their mobile device in a creative way. Learn tips and tricks to get the best results using a mobile device and explore different filming styles and techniques, storyboards and storytelling, editing and producing your own movie.
Working collaboratively and making use of MOTAT locations participants will develop and shoot a simple live-action story.
Event Dates
Wed 26 Apr 2017, 09:30 am
Wed 26 Apr 2017, 05:00 pm
Thu 27 Apr 2017, 09:30 am
Thu 27 Apr 2017, 05:00 pm