Journey of Self Discovery
Fri 30 Sep 2016, 06:45 pm
Thu 27 Oct 2016, 08:45 pm
Meetups,Community,Health Wellness,Cultural Ethnic
Hutt City Senior Citizens Association Hall
Westfield Tower, 45 Knights Road, Lower Hutt
Lower Hutt.
Journey of Self Discovery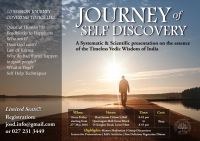 Journey of Self Discovery (JOSD) will be a fun filled interactive program where we will all go on a spiritual journey into amazing world of Bhagavad gita. We will logically & systematically explore various topics from Bhagavad gita & understand how they are relevant & practical in this day & age.
Highlights of the program:
- Melodious kirtan
- Mantra Meditation
- Group discussions
- Interactive presentations
- Free wholesome vegetarian dinner will be provided at the end of the program for the attendees.
If you have children please bring them along. We have planned various activities accommodating children of age group 5 and above.
Please feel free to invite your friends.
Seats are limited & entry is by registration so please book your seat by using the link http://www.surveygizmo.com/s3/2764384/JOSD-Registration-Lower-Hutt
For more information please contact us on josd.info@gmail.com
Event Dates
Hutt City Senior Citizens Association Hall
Lower Hutt.
Westfield Tower, 45 Knights Road, Lower Hutt
View on map
Fri 30 Sep 2016, 06:45 pm
Fri 30 Sep 2016, 08:45 pm
Hutt City Senior Citizens Association Hall
Lower Hutt.
Westfield Tower, 45 Knights Road, Lower Hutt
View on map
Fri 30 Sep 2016, 06:45 pm
Fri 30 Sep 2016, 08:45 pm
Hutt City Senior Citizens Association Hall
Lower Hutt.
Westfield Tower, 45 Knights Road, Lower Hutt
View on map
Fri 07 Oct 2016, 06:45 pm
Fri 07 Oct 2016, 08:45 pm
Hutt City Senior Citizens Association Hall
Lower Hutt.
Westfield Tower, 45 Knights Road, Lower Hutt
View on map
Fri 07 Oct 2016, 06:45 pm
Fri 07 Oct 2016, 08:45 pm
Hutt City Senior Citizens Association Hall
Lower Hutt.
Westfield Tower, 45 Knights Road, Lower Hutt
View on map
Fri 14 Oct 2016, 06:45 pm
Fri 14 Oct 2016, 08:45 pm
Hutt City Senior Citizens Association Hall
Lower Hutt.
Westfield Tower, 45 Knights Road, Lower Hutt
View on map
Fri 14 Oct 2016, 06:45 pm
Fri 14 Oct 2016, 08:45 pm
Hutt City Senior Citizens Association Hall
Lower Hutt.
Westfield Tower, 45 Knights Road, Lower Hutt
View on map
Fri 21 Oct 2016, 06:45 pm
Fri 21 Oct 2016, 08:45 pm
Hutt City Senior Citizens Association Hall
Lower Hutt.
Westfield Tower, 45 Knights Road, Lower Hutt
View on map
Fri 21 Oct 2016, 06:45 pm
Fri 21 Oct 2016, 08:45 pm